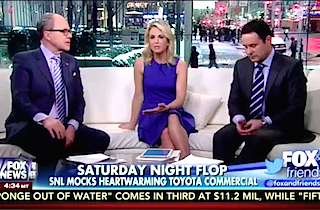 Saturday Night Live's commercial parody about a father sending off his daughter to join ISIS apparently rubbed a lot of viewers the wrong way, as they made clear on social media. But most TV pundits have stayed relatively neutral on the topic, saying it's SNL's right to mock the terrorist group if they see fit. Fox & Friends host Elisabeth Hasselbeck, however, did not hold back her disapproval Monday morning, saying there's "nothing funny about ISIS."
After praising the heartwarming Toyota commercial on which the SNL sketch was based, Hasselbeck condemned the show for essentially disrespecting the men and women who are leaving home to fight terrorism.
"It's actually hard to watch," she said. "I mean, when you watch it time and time again, you think, 'Really? How insensitive can you get?'"
During Sunday's edition of Fox & Friends, Tucker Carlson also expressed his disappointment in the sketch and used to make a point about supposed liberal bias on the show. "I would love to see an SNL sketch like making fun of transgender bathrooms, for example," he said. "You will never, ever see that. Why? Because it's just too far. There actually is a line, it's just a different line than most of us perceive."
Meanwhile, Fox's Gretchen Carlson seemed to enjoy her portrayal in SNL's Birdman-inspired cold open, mentioning it at least three times during Monday's The Real Story and sharing positive tweets from fans.
Watch video below, via Fox News:
[Photo via screengrab]
— —
>> Follow Matt Wilstein (@TheMattWilstein) on Twitter
Have a tip we should know? tips@mediaite.com