Fox's Eric Bolling Battles DC Council's Marion Barry: 'You Probably Should Be Thrown' Out Of Office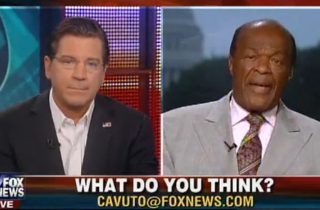 While filling in for Neil Cavuto today on Fox News, Eric Bolling got into a heated exchange with former D.C. mayor and current councilman Marion Barry; at one point, telling the Democratic politician he should be removed from office.
Barry is one of several Washington, D.C., councilmembers pushing a plan to force certain large retailers like Walmart to pay a higher minimum wage for its associates. Walmart has fought back against the effort, threatening to cease construction of three new Walmarts in the city, and cancel plans for three others. Bolling confronted Barry on Fox this afternoon, asking him specifically how a bill that scares away a big-box employer could possibly help the city with its high unemployment rate.
"We're talking major economic development for the D.C. area that, frankly, needs it, sir," Bolling told the councilman. "Why would you vote to stop that?"
Barry asserted his belief that the prevailing minimum wage rate is barely enough for a D.C. family to survive on; adding that he and his colleagues feel as though Walmart is "sticking us up" by threatening to leave the city if the higher wage standards are applied to their retail stores.
Bolling then attempted to switch gears, asking the former mayor: You were fined today for some things that, frankly, I would say you probably should be thrown off the city council for. Want to talk about that?" (The Washington Post reported this morning that Barry had been censured and fined $13,600 for accepting gifts from contractors.)
"I'm not talking about that," Barry shot back. "I'm talking about Walmart and the fact they have held us hostage."
"But, sir, all due respect," Bolling replied, "you lose credibility when you're being censured and fined for taking money."
Watch the full debate below, via Fox:
— —
>> Follow Andrew Kirell (@AndrewKirell) on Twitter
Have a tip we should know? tips@mediaite.com