Fox's Eric Bolling Clarifies After Saying Obama Admin Answers To 'Quran First' And 'Constitution Second'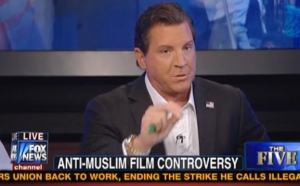 Today on The Five, the crew discussed the anti-Islam film that has garnered widespread attention, particularly in light of anti-U.S. attacks and protests in the Middle East. Displeased with what he views as appeasement, Eric Bolling said President Barack Obama's administration "answers to the Quran first and to the Constitution second."
Earlier in the segment, Greg Gutfeld noted that "anti-Americanism" is born in universities and then bleeds elsewhere, such as into government. There's nobody in the White House or in academia, he said, who thinks "our government is not at fault" — alluding to what many perceived as an American "apology" following the recent attacks.
Then, referring to a photograph of the filmmaker — who was in disguise and was interviewed by federal probation officers — Bolling remarked, "America changed at that moment. To use what is being called a flimsy ploy to bring this guy in for questioning…proves that the Obama administration, through all this appeasement and apologizing, answers to the Quran first and to the Constitution second."
Fellow co-host Bob Beckel immediately shot back, "That's just an outrageous statement. Even for you, that's an outrageous statement." Pounding his fist on the table, he added, "That is the most — of all the things you've said, and I love you, brother, but that's the most outrageous statement I've ever heard."
The group then went back and forth discussing free speech, with Beckel saying such a video is a bad idea, and his colleagues asserting that while that may be, it's perfectly within his rights.
Later, in the "One More Thing" segment, Bolling revisited his "Quran" comment, seeking to clarify:
What I meant was, rather than appeasing the Muslims, [President Obama] should worry about free speech first. That's it. I'm done with, I don't want to hear about it.
Watch Bolling's remark followed by his clarification below, via Fox News:

Have a tip we should know? tips@mediaite.com