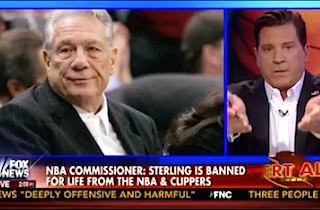 Fox News' The Five kicked off Tuesday's show by debating whether the punishment fits the crime in the case of L.A. Clippers owner Donald Sterling, who was banned for life from the NBA and fined the maximum allowable $2.5 million earlier today. If the NBA can sanction Sterling in this way for making racist comments in private, then host Eric Bolling wondered if Harry Reid should be banned for life from the Senate?
Earlier in the segment, Bolling wondered aloud what the Left would be saying if it had been the tea party or even the Koch brothers who were planning on honoring Sterling this week, instead of the NAACP. Liberal guest host Julie Roginsky called him out for finding a way to make conservatives the victim in this story, but Bolling pressed forward.
Bolling admitted that what Sterling said was "bigoted and racist," but then drew a parallel with Senator Reid, who, in 2008, reportedly praised then-Senator Barack Obama for being a "light-skinned" African-American "with no Negro dialect, unless he wanted to have one."
"Sounds racist, sounds bigoted," Bolling said of Reid's remarks. "So, should Senator Harry Reid have to pay $2.5 million? Should Senator Harry Reid have to step down from the Senate?"
Roginsky answered that if you don't like what Reid said, you should vote against him, but there's no equivalent punishment to what Sterling is facing from the private institution of the NBA in the U.S. Congress. "Do you want to ban him from the NBA?" she asked.
Watch video below, via Fox News:
[Photo via screengrab]
— —
>> Follow Matt Wilstein (@TheMattWilstein) on Twitter
Have a tip we should know? tips@mediaite.com