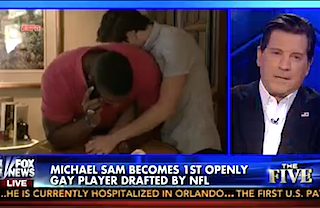 Defensive end Michael Sam just made it into the NFL during Saturday's draft, getting picked by the St. Louis Rams in the 7th round as the 249th pick overall. And while some commentators think Sam, who publicly came out as gay earlier this year, should have been picked earlier, The Five host Eric Bolling said Monday that if the player wasn't gay, he wouldn't have been picked at all.
Citing Sam's college stats, including that fact that he was an All-American player, Bob Beckel argued that he should have been picked in the top 20. "Everybody who passed him by, the owners and general managers, were afraid of a gay person on their team," Beckel said comparing Sam to Jackie Robinson, "and I would say, 'a pox on your houses.'"
RELATED: ESPN Host: I Respect Those Who Don't Want Michael Sam Kiss 'In Their Face'
When it was Bolling's turn to speak, he said he "hopes" Sam was drafted because of his ability, but wasn't so sure that was the case. "Some people were saying he was pushed down, Bob thinks he was pushed down in the draft because he was being the first openly gay NFL player and the teams didn't want the distraction," Bolling said, noting Sam's poor performance in the pre-draft combine.
"I would say he was drafted because he was the first openly gay player," Bolling added. "I don't think he would have been drafted had he not been."
"What?!" Beckel exclaimed in response to Bolling's charge.
Watch video below, via Fox News:
[Photo via screengrab]
— —
>> Follow Matt Wilstein (@TheMattWilstein) on Twitter
Have a tip we should know? tips@mediaite.com