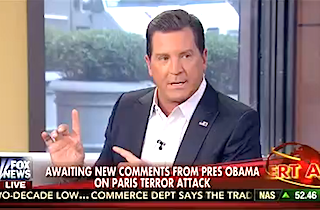 Fox News' Eric Bolling was the "One Lucky Guy" Wednesday who had to chance to share his views about the Paris terror attack on Charlie Hebdo. The host decided to tie the events in France into this country's debate over the militarization of police that heated up last year following the protests in Ferguson, Missouri. According to Bolling, terrorists so easily infiltrating the magazine's offices means we should "over-militarize" the police in America.
"This should be a test case for New York City or any major city or city for that matter," Bolling said, noting reports that the cops assigned to protect the Paris office were only equipped with hand guns while the attackers had heavy, military-style weapons.
"There's been a very heavy push for the left saying, 'Let's not over-militarize our cops,'" he continued. "That should put an end to the discussion right now. We should over-militarize, we should continue to do that." Bolling then lamented the fact that NYPD officers no longer walk around with machine guns as they did after 9/11.
Outnumbered co-host Kennedy was quick to push back against Bolling's arguments, saying cops "shouldn't see us as the enemy… That is the difference between the military and the police." In her view, "The best things that Americans can do is arm themselves."
As the discussion devolved into the difference between "good guys" and "bad guys," Fox anchor Shannon Bream asked, "Do we even know what color they were, what the tone of their skin was? I mean what if they didn't look like typical bad guys?"
Watch video below, via Fox News:
[Photo via screengrab]
— —
>> Follow Matt Wilstein (@TheMattWilstein) on Twitter
Have a tip we should know? [email protected]