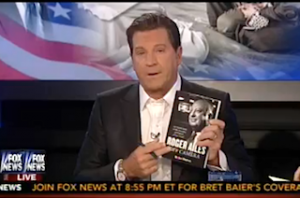 Eric Bolling is "about to blow your mind." That was The Five host's promise before reading an excerpt from the 2012 biography Roger Ailes: Off Camera
in which the Fox News president predicted exactly how the current diplomacy effort in Syria would play out.
Reminding viewers that Roger Ailes made his statements a year ago, Bolling read an extended excerpt:
"Putin is angry. He thinks the United States doesn't take him seriously or treat Russia as a major player. Okay, fine, that's how he feels. If I were president, I'd get in a room with him and say, 'Look at the slaughter going on in Syria. You can stop it. Do it, and I'll see to it that you can get all the credit. I'll tell the world it was you who saved the innocent children of Syria from slaughter. You'll be an international hero. You'll go down in history.' Hell, Putin would go to bed thinking, 'That's not a bad offer.'

There will still be plenty of other issues I'd have with Russia. But instead of looking for one huge deal that settles everything, you take a piece of the problem and solve it. Give an incentive for good behavior. Show the other guy his self-interest. Everybody has an ego. Everybody needs dignity. And what does it cost? You get what you want you give up nothing."
"How many lives may have been saved if President Obama just went to Putin like Roger Ailes suggested?" he asked after he'd finished reading.
The rest of the hosts agreed with Ailes was "very prescient" in his comments, but skepticism remained on how big of an effect the diplomacy effort would have had then as well as how much it will have now.
The only question that remains is just how Bolling came across the year-old passage. He said, "the hair stood up on the back of my neck" as he read from the volume, but is it possible he may have seen McKay Coppins' BuzzFeed article on this exact issue published this past Friday? Coppins quoted the exact same passage under the headline "Here's How The President Of Fox News Would Handle Syria If He Ran The U.S." before the latest developments pointed President Obama in that very direction. BuzzFeed received no mention as a source for the segment.
Watch video below, via Fox News:
[photo via screengrab]
— —
>> Follow Matt Wilstein (@TheMattWilstein) on Twitter
Have a tip we should know? tips@mediaite.com