Fox's Greg Gutfeld And Bob Beckel Admit To 'Pulling Punches' With 'Co-Worker' Sarah Palin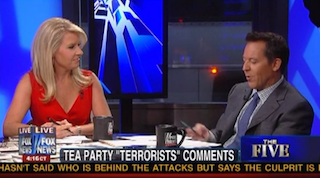 Well, this was unexpected. During a quick segment on Sarah Palin's Hannity appearance, The Five's Greg Gutfeld and Bob Beckel both discussed the difficulty with ever saying anything bad about the former Governor since she is, technically, a "co-worker." This has always been the criticism of Palin's appearances on the network but we've never heard Fox News employees admit it so bluntly. You might as well get used to this video because, as long as Palin is getting paid by Fox News, something tells me detractors of both she and the network will be giving this clip a whole lot of play.
Gutfeld was the one to bring it up:
"The only problem with talking about Sarah Palin is that she works here and it's like a co-worker and, if I say something bad and I see her in the hallway, I feel really awkward and wrong. So I just kind of say, 'That was a good job.'"
Typical irreverence from the Red Eye host but Beckel really hammered the point home, saying, "I'll be honest. I've pulled my punches on her."
On their face, there really isn't anything too shocking about these comments. Anyone from any line of work would feel the same way. However, this has always been the exact complaint people have had about Palin and Fox News. Does Sean Hannity treat her this way? Does Bill O'Reilly treat her this way? Much more importantly, do the Fox News reporters treat her this way?
The main issue here is that this quick moment will be seen as a huge smoking gun to a great many people. What do you all think? Is it?
Watch the clip from Fox News below:
Have a tip we should know? [email protected]