Fox's Greta Takes Swipe At CNN's 'Softer' Approach: 'They're Forgetting' What They Were Successful At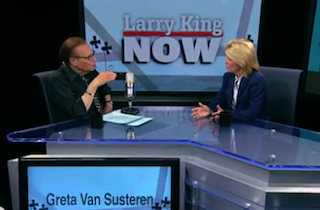 When she paid a visit to Larry King on his Ora TV show on Thursday, Fox News host Greta Van Susteren was a bit critical of CNN — where King, of course, spent many years. Questioning the network's "softer" approach," Van Susteren also thought it was "really stupid" of CNN to let go of King.
"I think now as CNN goes a little softer, I wonder if they're forgetting that what they were successful at was delivering the news," Van Susteren, who also previously worked at CNN, asserted.
King noted the network is in a "tough spot."
"You have Fox right, MSNBC left. What do you do in the middle?" he asked. "They do great when there's a hurricane. Tragedy they do great. What do you do?"
Van Susteren countered that there are plenty of good stories to cover. For example, she suggested, the genocide in Sudan's Nuba Mountains. Yes, international coverage is a tough sell, but "if you're gonna spend the money for a helicopter over a disabled cruise ship, if you got that kinda cash, why not spend it to send people to the Nuba Mountains?"
She also spoke with King about Howard Kurtz's move to Fox News, which she felt was a "loss" for CNN. To that point, she added that King was CNN's biggest lost.
"How do you get rid of the brand?" she asked. "I mean they got rid of Larry King, which was the brand at CNN. I used to watch your numbers and every single night till the day you left, you were the top rated show. How do you get rid of the brand? That was really stupid."
The videos below, via Hulu:


(h/t The Wrap)
Have a tip we should know? tips@mediaite.com