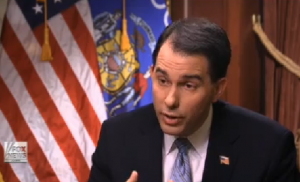 Wisconsin Governor Scott Walker continues to answer for the embarrassing ordeal of being the victim of a prank call. Although he didn't want to be distracted by it any further, Greta Van Susteren last night interviewed Walker and wanted him to respond to a few of the troubling comments he made during the call.
Although Walker claimed he didn't say anything during the call that he hasn't said publicly, Greta picked out a few gems that were new to her and that Walker would most likely prefer to take back. When the fake caller pretending to be David Koch suggested to Walker "you gotta love that [Morning Joe co-host] Mika Brzezinski" and moments later said "she's a real piece of ass," even though Walker replied "oh yeah," its unclear which part his response was aimed at. Greta attempted to get him to respond to this, but instead he just repeated that he's happy to appear on all news channels. And in an attempt to demonstrate his authenticity, Walker said the prank caller "was going to push for people to come in and cause a disturbance amongst the protesters – I made it very clear, that's not right, that doesn't work, it adds no value." However, Greta humorously stopped him from patting himself on the back too much, reminding him that during the call he actually said he previously thought about creating such a disturbance.
Although it seems surprising Walker doesn't know who Andrew Breitbart is and doesn't know how big of a contribution the Koch Brothers made to his campaign, it seems Walker is handling an awkward situation as best as one could. And overall, if in a twenty minute "private" conversation this is the worst he said, then compared to how things could have turned out, Walker should be relatively happy.
Watch the clip from Fox News below:

Have a tip we should know? tips@mediaite.com