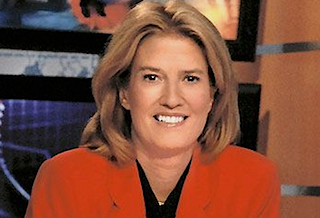 Last fall, Fox News shook up its prime time lineup, moving Greta Van Susteren long-running On The Record from 10PM to 7PM. Since then, she's had a lot more time to watch entertainment television (ie. not Fox News) and so far is not happy with what she's seeing.
In a blog post Saturday, the Fox host takes apart some of the most (and least) popular shows on television, concluding that Hollywood is missing a great opportunity to spread social good through TV.
"I often read of actors making statements about how to improve the world but their tweets, or random red carpet remarks — or even attaching their names to some cause is so small compared to what they could do," Van Susteren writes. "They could help lift the nation. If they really care, show us." From there, she lays out everything that's wrong with the handful of shows she's managed to catch, with a near-total focus on the work of show runner Shonda Rhimes.
On Scandal, which just drew more than 10 million viewers for its season 3 finale:
"I don't know about you, but I am 'over' the hand wringing between Fitz and Olivia. Their relationship is now dull – either get married or go their own ways but this endless hand wringing – and glorification of cheating – is ruining the show as it does not advance the story. But that is just one small point and that is probably just me.

The big point? Scandal is unnecessarily violent at times. One episode opened with graphic video of a man pulling a woman's teeth out with pliers and it went on and on and on. If it is already the #1 show (or at least extremely popular) long BEFORE it showed something this violent – and it was very violent – it did not need to go there. It achieved #1 status without that – so why go there?"
On Rhimes' other show, Grey's Anatomy:
"Depressing. I never feel good after watching that. I always wonder at the end, why did I watch that? It is depressing. Great acting, but depressing. It would not take a lot to add something to the plot to make it less depressing, almost inspiring."
On Enlightened, a critically-adored but little-watched HBO "dramedy" from Mike White:
"I tried HBO and watched a few episodes of the Enlightenment series (I know women, mothers and corporations just like those depicted in Enlightenment) but also depressing. Great acting, but depressing."
On sitcoms, in general, all of them:
"Vulgar."
Ultimately, Van Susteren admits, "no one is tying me up in the basement and making me watch any of these shows" and thinks "NCIS is another good show."
But her big point is that "with all of Hollywood wanting to be the great social activists" they should be making television that "lifts us up" rather than bringing us down. "They have our attention," she writes, "so why not take advantage of their crafts, their talents and their platform and make the nation feel a bit better?"
After reading Van Susteren's stream of consciousness post, it's hard to know whether she understands the breadth of great television out there or even the purpose of art as entertainment. She's written off all sitcoms, so she may never know the heartwarming uplift of shows like Parks and Recreation, Modern Family and even the animated Bob's Burgers.
And as for dramas, sometimes it takes some catharsis to "make the nation feel a bit better." If shows like Game of Thrones and Mad Men are too dark for her, I would suggest Parenthood, which just wrapped up its fifth season this past Thursday while Van Susteren was struggling through Scandal. It may make you cry at least once in every episode, but that doesn't mean it's depressing.
[photo via Fox]
— —
>> Follow Matt Wilstein (@TheMattWilstein) on Twitter
Have a tip we should know? tips@mediaite.com