Fox's Greta Van Susteren Takes Sarcastic Shot At CNN And Piers Morgan's "Fancy" Launch Party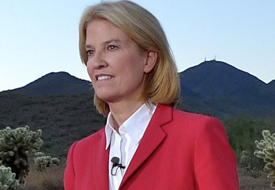 Fox's Greta Van Susteren clearly doesn't go weak in the knees for "fancy" parties featuring plenty of bold faced names. Noting that CNN's Piers Morgan was honored Tuesday night at just such a launch party in Manhattan in honor of his upcoming Piers Morgan Tonight, Van Susteren took to her Greta Wire blog to talk about "how different CNN and Fox" seem to her.

Van Susteren points out that at Fox, they occasionally have a party, but usually it's to celebrate something "after the fact." At CNN, by comparison, throws the party and then hopes it all turns out well:
I can't imagine Fox News Channel or friend of Fox News Channel having some fancy "launch party" at a fancy NYC upper east side address with a bunch of celebrities for a new cable news show. It seems so out of touch with the rest of the country, doesn't it?

At Fox we just get hired and go to work (and we are very glad to have our jobs!) We can celebrate later (and we have.)
Zing!
Morgan–never missing a beat or a chance to scrap–dishes his own plate of sarcasm, via Twitter, right back at her:
@piersmorgan: Oops, looks like someone's just the teeniest weeniest bit put out that she didn't get an invite – http://bit.ly/ePx5T7

@piersmorgan: Dear @gretawire I think you need to get out more. We always used to when I worked for Mr Murdoch. Come and party with me, love Piers x

@piersmorgan: Probably doesn't help poor @gretawire 's mood that she has to see this out of her Fox office window each morning – http://yfrog.com/h8b7flj
Have a tip we should know? tips@mediaite.com