Fox's Gretchen Carlson Questions Drone Uproar: 'Are You Against Actually Killing Terrorists?'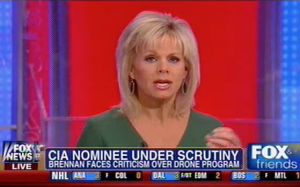 Uproar has been evident on both sides of the aisle following the recent news about President Obama's drone program. Not everyone, however, has been critical. Including Fox & Friends co-host Gretchen Carlson, who questioned some of the outrage during this morning's show.
Carlson wondered why the issue is "suddenly a topic of discussion." American-born Anwar al-Awlaki was killed in a drone strike in 2011, and there weren't many outraged immediately afterward, she said — save for the ACLU and some libertarians.
Yes, it's hypocritical for Obama to criticize President George W. Bush's tactics, Carlson continued, but that's a separate issue. "Are you against actually killing terrorists?" she asked.
The segment also touched upon the recent development that Obama is directing the Justice Department to release classified documents — detailing the legal reasoning behind drone strikes on American citizens abroad who are considered terrorists — to Congress' intelligence committees.
Given that it's coinciding with John Brennan's confirmation to become CIA director, Brian Kilmeade found a silver lining: We'll see real questions from both sides.
But Carlson circled back to her earlier point, remarking that she was "trying to figure out the exact criticism other than the hypocrisy."
"Do we really have criticism about the president taking out members of Al Qaeda?" she asked. "On the one hand, he was criticized for not believing in the war on terror. Now he actually is doing something about the war on terror, and that's problematic."
"Due process for Americans, that's what it comes down to," Steve Doocy explained, but Carlson wasn't buying it.
"I believe if somebody is a member of Al Qaeda and he's plotting to kill — he or she — Americans, I don't have a problem with a drone taking them out," she asserted. "Sorry, I don't."
Watch below, via Fox News:

Have a tip we should know? tips@mediaite.com