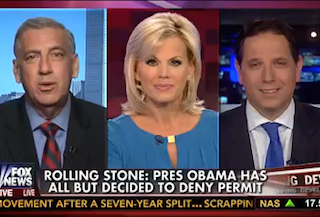 The Bundy Ranch standoff has been a major story for Fox News over the last couple of weeks, at times almost feeling like their version of CNN's missing Malaysia Airlines plane. But ever since rancher Cliven Bundy was captured on camera ranting about how "negroes" may have been "better off as slaves," the network has gone silent on the issue.
Since this morning, Fox has done exactly zero segments about Bundy, with one mention sneaking into a story about a similar situation in Texas — though without mention of the racist comments. The only other time the man's name was uttered on Fox so far today says a lot about how the network is deciding the handle the new development. During an unrelated debate about the Keystone XL Pipeline during The Real Story Thursday afternoon, Democratic strategist Joe Trippi brought up Bundy to make an analogy about the federal government coming in and claiming land.
Host Gretchen Carlson immediately put the kibosh on that angle, lest she be the first Fox News host to have to discuss the "negro" issue on the air. "Alright, let's not bring that into this discussion, I don't want to bring that into this discussion," she said quickly, cutting Trippi off and giving her conservative guest the floor. And that was that.
It's true that Fox News' daytime programming has not been as focused on the Bundy story as prime time — and especially Sean Hannity — has, but given how much the story has dominated online media today, it is notable that they have completely ignored it. Similarly, FoxNews.com's home page is practically Bundy-free, with just one piece on his comments by Lauren Ashburn buried below the fold.
Before they have to face their TV audiences tonight, two of Fox's primetime opinion hosts have weighed in on the issue in their own way. First, Greta Van Susteren, who has been a vocal champion of Bundy's cause, issued an unequivocal condemnation of his words on her website.
Then, on his radio show, Hannity called Bundy's words "beyond repugnant" while at the same time stressing that it does not mean he disagrees with the rancher's larger cause. Will these two, along with their colleagues Bill O'Reilly and Megyn Kelly choose to continue covering Bundy tonight, and if so, how much will that coverage concern what we now know about his character?
Like Fox, CNN also decided to ignore the Bundy story for most of the day on Thursday, though unlike Fox, they were not giving much of any coverage at all to begin with. It was not until after 4pm ET that Jake Tapper tackled the story on The Lead with a segment covering Bundy's comments and the media reaction to them.
On the other hand, MSNBC has gone all in on Bundy today, delivering no less than 11 segments on he comments since this morning. When Bundy held a live press conference, MSNBC was the only cable news network to cover it live.
First Fox News turned Cliven Bundy into a hero, and now MSNBC is making him into a villain. But after giving his story so much play in the preceding days, how long can Fox really ignore him now that they don't like what he's saying?
Watch video below, via Fox News:
UPDATE (7:25pm ET): Carlson responded to Mediaite's story on Twitter, saying she has resisted covering the Bundy story all along:
Check facts @mediaite. Didn't want to talk #BundyRanch story on #TheRealStory b/c I haven't covered story at all other than reporter hits.

— Gretchen Carlson (@GretchenCarlson) April 24, 2014
[photo via screengrab]
— —
>> Follow Matt Wilstein (@TheMattWilstein) on Twitter
Have a tip we should know? tips@mediaite.com