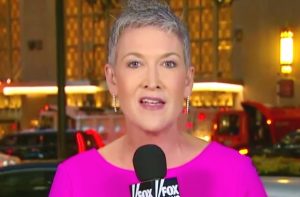 Jennifer Griffin, one of Fox News' most well-known reporters, gave a lengthy interview to People Magazine about how draining this election has been for her family life, the relationship both major candidates have with the press, and the situation her network finds itself in after the revelations of Roger Ailes sexual harassment came out.
Griffin offered these takes on how Hillary Clinton and Donald Trump deal with the press.
CLINTON:
"If you look at the WikiLeaks revelations, it shows that there was a strategy from the top to keep reporters at bay. They knew that they had very difficult questions to answer in terms of her private emails, which have really shown how there is a disdain in the Clinton camp to the press. Even about friendly reporters, they had mean things to say…

"It's not as though we have unlimited access to Clinton," she adds. "In fact, the first few months over the summer until about Labor Day, we really didn't have any contact with her and the Secret Service would keep us away from the rope lines. It was very challenging trying to cover her."
TRUMP:
Trump's comments "show a disrespect for the hardworking journalists who are out there digging out stories," she adds. Especially, she says, considering how frequently he uses intel she and her colleagues have dug up in his campaign speeches.

"Many of the stories that he talks about on his campaign trail are things that we reported on," she says. "I remember one story in particular from the Pentagon that I reported before I started on the campaign trail about the state of the Air Force and how they were having to cannibalized parts off of museum planes to get planes airborne to send them over into combat. And he's been quoting that story over and over. Well, if there weren't reporters reporting those stories and digging those stories up, you wouldn't have anything to talk about."
But Griffin also got candid about Ailes and his ousting and what a shock it was to her and everyone at Fox News.
As someone who personally felt great loyalty to Ailes, Griffin explained, "It was very difficult to believe at first but when it became very clear that this was the case, it was a body blow for all of us. It was sickening, it was disappointing, it was a great sense of betrayal."
She said "we felt that we had been duped over the years" and gave credit to the women like Gretchen Carlson and Megyn Kelly who spoke out:
"This was a case where this was very well hidden and it's a shame that it took so long for it to come out and that it went on as long as it did," says Griffin. "But my hat is off as a woman working at that company and I think we all feel a degree of gratitude and indebtedness that women like Gretchen and Megyn [Kelly] were strong enough to speak up and it's really an unfortunate chapter but it's over. It's over and we are moving on. We're doing what we've always done, we're covering the news."
You can read more of Griffin's People interview here.
[image via screengrab]
— —
Follow Josh Feldman on Twitter: @feldmaniac
Have a tip we should know? tips@mediaite.com
Josh Feldman - Senior Editor