Fox's Guilfoyle: Bergdahl 'Lucky' U.S. Forces Didn't Bring Him Home in a Body Bag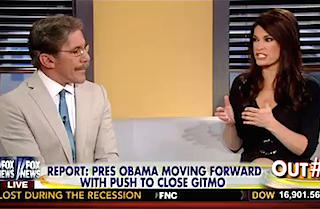 Things got heated between Geraldo Rivera and Kimberly Guilfoyle Friday afternoon on Fox News' Outnumbered as the debate over U.S. Sgt. Bowe Bergdahl's release by the Taliban raged on. While Rivera maintained that as a U.S. solider, Bergdahl deserved to be brought home alive by any means necessary, Guilfoyle said he was "lucky" that U.S. forces didn't kill him and bring him home in a body bag.
Speaking about soldiers in the field, Rivera said that "one of the things they take great security in is a absolute maxim that if anything happens to them, they're going to be brought home, that we will not leave them behind." He added, "I don't care who Bergdahl is, we don't leave him behind." If the Army starts trying to decide which soldiers are worth saving, then he said "our armed forces will be stripped of what is absolutely the thing that makes them most secure."
"It seems to me he's pretty lucky that he was brought home the way he was," Guilfoyle said, disagreeing with Rivera. "Because if those special forces had found him and encountered him — and they were looking for him — he would have come home either in a body bag or come home and gone straight to jail." But now instead, Bergdahl is being "celebrated as a hero."
This led to sparring back and forth between the two pundits as to whether Bergdahl's conduct "matters" when it came time for those in charge to make a deal to bring him home. "I don't care what he did, I want him to come home, and we'll sort out here," Rivera insisted. "He'll have a court-martial, he'll have a lawyer, he'll have a prosecutor." And, he suspected those "five or six sainted guys" who appeared on Megyn Kelly's show last night will testify against him.
Watch video below, via Fox News:
[Photo via screengrab]
— —
>> Follow Matt Wilstein (@TheMattWilstein) on Twitter
Have a tip we should know? tips@mediaite.com