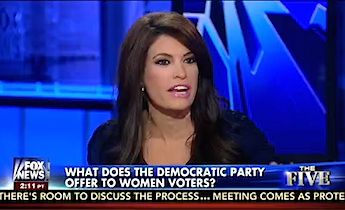 Is Fox News discouraging young women from voting in this year's midterm elections? It sure seemed that way Tuesday on The Five when a discussion about the Democrats' "War on Women" strategy possibly backfiring led to a rant by co-host Kimberly Guilfoyle, who she said should be "excused" from their civic duties so that can "go back on Tinder and Match.com."
"Married women tend to be more conservative, but that also correlates with age. And with age comes wisdom and it's a known fact that the older you get the more conservative you get," Greg Gutfeld said of the conventional wisdom that younger women tend to vote for Democrats.
Guilfoyle agreed with Gutfeld's assessment, adding, "It's the same reason why young women on juries are not a good idea. They don't get it!" She said they don't have the proper "life experience" such as having kids and paying bills that allows older women to make informed decisions, whether in the voting booth or the courtroom.
"They're like healthy and hot and running around without a care in the world," she said of young women, who she thinks should be "excused" so "they can go back on Tinder or Match.com."
In 2012, single women voted for President Barack Obama over Mitt Romney by a margin of 36 points. Even if that gap diminishes in 2014, the voting bloc will still be vital to any Democratic candidates' chance at victory.
Watch video below, via Fox News:

UPDATE — Oct. 23, 1:28 p.m. ET: Guilfoyle will address the comments in a new Five segment later tonight:
Should young women (or men for that matter) who haven't studied the issues… cast their vote at the ballot box? That discussion on @TheFive

— Kimberly Guilfoyle (@kimguilfoyle) October 23, 2014
[h/t Huffington Post]
[Photo via screengrab]
— —
>> Follow Matt Wilstein (@TheMattWilstein) on Twitter
Have a tip we should know? tips@mediaite.com