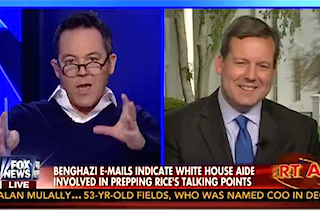 Fox News' White House correspondent Ed Henry joined The Five Thursday afternoon to share his take on a contentious press briefing from Jay Carney earlier in the day, in which he got into some heated back and forth with the press secretary over the Obama administration's response to the 2012 attack in Benghazi. While he was on the show, co-host Greg Gutfeld asked him how much longer he thinks news outlets other than Fox will keep paying attention to the story.
"The good news here is that CNN is finally covering Benghazi, because they think that's where the airplane went," Gutfeld said, joking about that network's coverage of the missing Malaysia Airlines plane story. "It seems to me, as you said, that Benghazi was always a Fox story. It's not that way anymore. Do see that as a general shift, or is this some kind of thing they're going to do for about 24 hours and then they're going to move on to the more important matters that they've yet to figure out?"
"I think it's the latter," Henry said. "I'd be surprised if Benghazi is talked about in the briefing room for much longer."
But, at the same time, he went against many of his Fox colleagues by saying that would not necessarily be a bad thing. "I don't think Benghazi should come up — and I know there will be some people in the audience that disagree with me — but the fact is it shouldn't come up every single day if there's not new information."
Since there is actual new information this week, in the form of emails indicating White House officials may have directed then National Security Advisor Susan Rice to focus on an inflammatory YouTube video as the origin of the attack, then the White House "should be pressed, not just by Fox, but by others, and they are," Henry said.
"Now, again, you shouldn't be banging the drums every day if there's not new information," he said, adding that after this week, "I suspect that this is not going to be something that the media pays a lot of attention to for much longer."
Watch video below, via Fox News:
[Photo via screengrab]
— —
>> Follow Matt Wilstein (@TheMattWilstein) on Twitter
Have a tip we should know? tips@mediaite.com