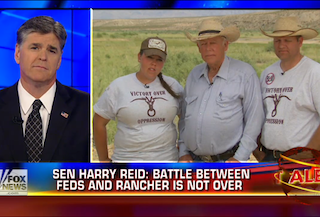 For the second night in a row Tuesday, Sean Hannity opened his Fox News show with an "exclusive" interview with Nevada cattle rancher Cliven Bundy, whose decades-long conflict with the federal government became national news after his supporters faced down Bureau of Land Management authorities in an armed standoff this past weekend. During last night's interview, it often appeared to be Hannity rather than Bundy who was escalating the rhetoric of the potentially dangerous conflict.
The Fox host began by playing video of Senate Majority Leader Harry Reid (D-NV), who told reporters Monday of the situation, "It's not over. We can't have an American people that violate the law and then just walk away from it." Hannity then quoted one of the protesters on Bundy's side, former Arizona sheriff named Richard Mack, who said he believes the BLM is planning a surprise midnight raid on the compound. "Given that warning, could there be another standoff brewing tonight?" Hannity asked.
When Hannity asked his guest what he makes of "the sheriff's" comments, Bundy replied, "I really don't know nothing about that." In fact, he seemed to be more interested in talking about the "beautiful" blood moon from the night before than he was about the possibility of another standoff with federal authorities.
But Hannity barreled ahead, attempting to draw a tenuous connection between Senator Reid's comments and Richard Mack's supposed inside information on the BLM's plans. "You've got believe that something is brewing here, no?"
At this point, Bundy did decide to respond directly to Reid, saying Nevadans elected him to do things like defend the United States from foreign nations, not encroach on his ranch. "Harry get back there and take care of that work and leave us alone here in Nevada," he said. "You have no business here in Clark County, Nevada."
Perhaps not satisfied with that relatively innocuous threat from Bundy, Hannity came back by asking Bundy what would happen if "God forbid" the federal government raided his ranch in the early morning hours.
"If they come, we'll deal with them tonight," Bundy responded, in a clear escalation of rhetoric. "If that's what we've got to do, we'll just deal with you. If you've got guts enough to do it, then come on."
Again using Richard Mack as his source, Hannity suggested that a raid on Bundy's ranch could only end in "violence" and asked Bundy whether he would surrender if necessary. Bundy answered that he would only surrender to the "proper authorities," in this case meaning the Clark County sheriff. "If he came to arrest me, I would definitely let him arrest me," Bundy said. "He's the only man with arresting power in Clark County, Nevada."
It only took a few short minutes of talking to Hannity for Bundy to transition from joking about the moon to essentially telling the federal government "bring it on." While it's certainly possible that he would have arrived at that position on his own, and has displayed a historical willingness to challenge the federal government, in this case it was the Fox News host who carefully guided him to that point through his series of questions.
Watch video below, via Fox News:
As for Richard Mack, the man whose supposed government sources Hannity used to fuel Bundy's paranoia, here's something else he had to say about the protesters' plans, had the confrontation over the weekend escalated further: "We were actually strategizing to put all the women up at the front," Mack told Fox News on Monday. "If they are going to start shooting, it's going to be women that are going to be televised all across the world getting shot by these rogue federal officers."
At the end of the day, is this really the man with whom Hannity wants to align himself? And if he keeps on subtly cheering the idea of armed insurrection against the government night after night, would he hold himself responsible if such a violent confrontation were to actually occur?
Watch video below, via Fox News:
[photo via screengrab]
— —
>> Follow Matt Wilstein (@TheMattWilstein) on Twitter
Have a tip we should know? tips@mediaite.com