Fox's Harris Faulkner: Obama 'Tipping His Hat' to ISIS by Calling Them 'ISIL'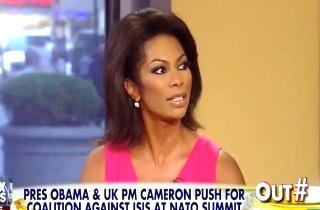 Close news watchers may have noticed that President Barack Obama regularly refers to an Islamic terrorist network in the Middle East as "ISIL" while many reports in the media label the same network as "ISIS." The co-hosts of Fox News's Outnumbered see something fishy there.
The differences between the two names are relatively small. ISIL stands for Islamic State of Iraq and the Levant. ISIS stands for the alternative name, the Islamic State of Iraq and al-Sham or the Islamic State of Iraq and Syria. The "Levant" refers to several countries around Syria and the U.S. State Department announced in May that ISIL would be the "primary name" for the network.
Here's how the co-hosts on Outnumbered interpreted it:
Ainsley Earhardt: "They changed the name in the middle of all this to ISIL. They don't have the right to do that. We're going to continue to call them ISIS."

Harris Faulkner: "So our president is tipping his hat to them."

Earhardt: "They changed the name…"

Faulkner: "So, it's the Islamic State of Iraq and the Levant. Levant is a bigger territory. That's why they want to embrace that name and it includes many, many more countries than just Syria."

Jesse Watters: "And I think the president doesn't want to have it be just Iraq and Syria because that brings to mind the president's failed polices in Iraq. Which, he said the Iraq war was over. And Syria, which he drew the line and basically vacated it. When they say Levant, that's broadening it out and it kind of doesn't remind people that this is his policy…"
Sounds about right!
Watch via Fox News:
[Image via Fox News/screen grab]
— —
>> Follow Eddie Scarry (@eScarry) on Twitter
Have a tip we should know? [email protected]