Fox's Howard Kurtz: Does MSNBC's 'Culture' Encourage 'Harsh Personal Attacks'?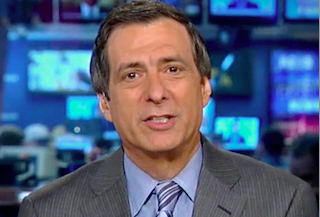 For his latest column on FoxNews.com, MediaBuzz host Howard Kurtz examines the "culture" over at competitor MSNBC that he suggests may have "encouraged" the comments about Sarah Palin that got Martin Bashir fired as well as the more recent controversial segment about Mitt Romney's black grandson on Melissa Harris-Perry's weekend show. "Is there something in the water over at 30 Rock?" he asks.
Kurtz prefaces his argument with a disclaimer of sorts: "First, this is not some sort of Fox attack on MSNBC." He explains that unlike some of his more partisan colleagues at Fox, he has "friendly relations with a number of people who work there," thinks the network is good at "dealing with policy issues in more than short sound bites" and maintains that MSNBC President Phil Griffin "has every right to position his outfit as a liberal network."
"But has the channel developed a culture in which harsh personal attacks are encouraged, or at least tolerated?" he asks. Seeing a broader theme in instances like the ones involving Bashir and Harris-Perry, Kurtz says MSNBC appears to hold "a view of Republicans and conservatives as so mean-spirited, hard-hearted and clueless that just about any rhetoric against them can be justified."
While he acknowledges that Fox is not immune to personal attacks, and suspects "some folks are at this moment scrambling to dig up incendiary comments made on Fox," he claims it's not on the same level as MSNBC. "Not since Glenn Beck was branding Barack Obama a 'racist' with a 'deep-seated hatred' of white people has anything been at the Bashir level," he writes, "and that was five years ago."
As Fox's resident media critic, Kurtz must stay above the fray of inter-cable news wars to retain the objectivity — or at least the "fair and balanced" mantra — needed to maintain credibility. But by declaring his own employer's moral victory over its main competitor, does he go too far in taking a side?
Read Kurtz's full column at FoxNews.com.
[photo via screengrab]
— —
>> Follow Matt Wilstein (@TheMattWilstein) on Twitter
Have a tip we should know? tips@mediaite.com