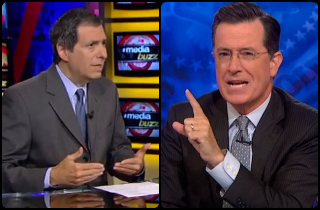 Fox News' Howard Kurtz does not tend to see eye-to-eye with Stephen Colbert. In fact, just this past week Kurtz wished Colbert luck in dropping his "protective cloak as a pompous blowhard" when he takes over for David Letterman next year.
But in a new column and video for FoxNews.com, Kurtz appeared to closely echo Colbert's take on the whole celebrity nude photo hacking scandal.
On Tuesday night, Colbert pointed out the inherent hypocrisy in the Huffington Post publishing an op-ed "shaming anyone who looked at or shared these photos" while at the same time having an entire vertical dedicated to "sideboob."
"That's why I call The Huffington Post the moral fulcrum of the internet," Colbert joked.
And here's Kurtz writing on the issue Thursday:
The media outrage is justified, in my view, not just an attempt to boost ratings and clicks by talking about naked shots of Jennifer Lawrence, Kate Upton, Kim Kardashian and the rest.

But there is a strong whiff of hypocrisy here. Many high-traffic websites feast on showing every inch of female flesh, preferably belonging to famous females, than they can access. These may occur in wardrobe malfunctions, paparazzi shots of women in bikinis or topless sunbathing, or just out-and-about actresses and models who wind up revealing a bit more than they had planned.

I mean, the Huffington Post has an entire section labeled "Sideboob."
The MediaBuzz host expanded his thoughts in a video debate with Lauren Ashburn. "I have to blow the whistle here, there's a lot of hypocrisy about this," Kurtz said, as b-roll footage of scantily-clad celebrities Jennifer Lawrence and Kate Upton played on the screen. "Some of these same media sites that are saying, 'Isn't it terrible that these pictures were stolen from these celebrities?' — every single day, if you check The Huffington Post, The Frisky and other sites, every single day they're running nip slips, wardrobe malfunctions…"
"Do you know The Huffington Post has an entire vertical dedicated to 'sideboob?'" Kurtz asked later in disgust. "I didn't even know 'sideboob' was a thing until I read The Huffington Post!"
Or could it have been until he watched The Colbert Report?
Watch video below, via FoxNews.com
And watch Colbert's segment, for comparison, below, via Comedy Central:
[Photo via screengrab]
— —
>> Follow Matt Wilstein (@TheMattWilstein) on Twitter
Have a tip we should know? tips@mediaite.com