Fox's Jeanine Pirro Praises Baltimore State's Attorney Mosby for Charging Officers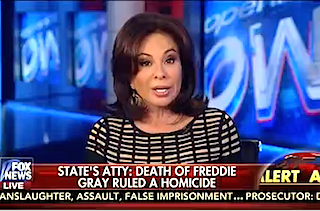 Shortly after she announced homicide charges for police officers in the death of Freddie Gray Friday morning, Maryland State Attorney Marilyn Mosby got some unlikely support from former prosecutor and judge turned Fox News host Jeanine Pirro, who praised her for a quick and decisive ruling in the case.
"She is strong, she is clear, she went through the facts as she believes she will be able to prove them at trial," Pirro said on Fox. But at the same time, Pirro described the van transport that allegedly severed Gray's spine as "not the rough ride we thought it was."
"But my take from all of this is this woman is clear, she is focused, she has the evidence, she believes she has the facts to support her allegations and she is going to run with this completely," Pirro added.
"If a guy is flailing, shackled by his feet, arms behind his back, and feels he can't breathe, I mean, you have to say to yourself, if there were seatbelts in a paddy wagon, and I am not familiar with many that have that, then why not put him in those?" Pirro said, shifting to the specifics of the case. "But to raise this to the level of murder and manslaughter, I would have to look at the statute to see what works. But she seems quite confidant of her charges."
Citing "probably cause," Mosby charged the driver of the van with second-degree murder, three officers with involuntary manslaughter and others with assault.
Watch video below, via Fox News:
[Photo via Fox/screengrab]
— —
>> Follow Matt Wilstein (@TheMattWilstein) on Twitter
Have a tip we should know? tips@mediaite.com