Fox's Jesse Watters: If Police Were Racist, They Would Just Let Black People Kill Each Other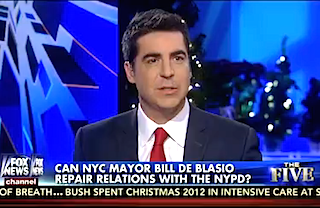 A discussion of Fox News' The Five Tuesday afternoon surrounding the ongoing tension between New York City Mayor Bill be Blasio and local police unions following the murder of two NYPD officers last week led co-host Jesse Watters to a seriously hyperbolic declaration about the idea that police could be seen as racist.
The Five hosts Eric Bolling and Kimberly Guilfoyle were discussing what they see as a lack of "respect" for NYPD officers from Mayor de Blasio and other officials where Watters jumped in with his assessment.
"Everyone is saying that the NYPD is racist," Watters said. "If the NYPD was actually racist, when someone called 911 from a black community, they just wouldn't even go in. They'd sit there on the perimeter and let them shoot each other."
He continued, this time trying to draw a distinction between African-Americans and Chinese-Americans. "There's some beef in Chinatown, and the NYPD goes to Chinatown and busts some Chinese guy, roughs him up, I don't see all these Chinese guys out there on the streets protesting," Watters said
To the protesters angry about the deaths of Michael Brown and Eric Garner, Watter suggested that instead of calling the police when their cars get jacked, they should try calling Al Sharpton. "Maybe Sharpton can help them out with that, right?" he joked.
Besides the fact that Watters' scenario is a hypothetical that didn't happen as opposed to the Brown and Garner killings, which are real, there is no evidence that police are killing large numbers of unarmed "Chinese guys" every year in this country. Perhaps if they were, you would see that community up in arms.
Watch video below, via Fox News:
[Photo via screengrab]
— —
>> Follow Matt Wilstein (@TheMattWilstein) on Twitter
Have a tip we should know? tips@mediaite.com