Fox's Jesse Watters 'Offended' by Rand Paul: 'Makes Howard Dean Look Like a Warmonger'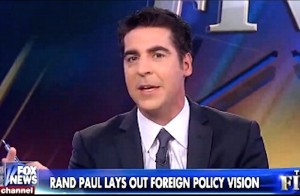 Not sure how we missed this one last week, but here goes: Fox News' noted foreign policy expert Jesse Watters is deeply offended by Sen. Rand Paul's foreign policy ideas, and thinks the libertarian-leaning Republican is to the left of Howard Dean on such matters.

When The Five discussed that infamous Foundation for a Secure and Prosperous America attack ad linking Sen. Paul to President Barack Obama's foreign policy, closing with a nuclear mushroom cloud, Watters had this to say:
I actually support the ad. I think a lot of his foreign policy is offensive. It's a Code Pink foreign policy. Let's look at some of the things he's said and done. This guy said the American intervention in the Middle East created ISIS — I think President Obama actually said that too. He took the military option off the table in Iran — even President Obama had that. He said Cheney went to war in Iraq for Halliburton profits… He wants to get rid of the Patriot Act, so does Nancy Pelosi. These things don't sit well with me, not a lot of other Republican primary voters, and this guy is going to get kneecapped by these hawks he has to debate because he's going to get used as a punching bag. I mean this guy makes Howard Dean look like a warmonger.
A few quick thoughts:
1) Last we checked, Pelosi has not called for repealing the Patriot Act. But a few Republicans have opposed the law, including conservative stalwarts like Sen. Mike Lee (R-CO) and Reps. Justin Amash (R-MI) and Thomas Massie (R-KY). In fact, Pelosi voted for the law's extension (and likely corralled her fellow Dems into doing so) back in 2013. Also: Sen. Paul famously sparred with Harry Reid over the Patriot Act, so does this make Watters a fan of… gulp… Harry Reid?
2) Notice the demonizing names specifically and hyperbolically aimed at Sen. Paul so as to group him among the average Fox viewer's most terrifying bogeymen/women: Nancy Pelosi, Code Pink, Howard Dean, etc.
3) It's still really weird to hear professional troll Watters suggest that he is among "Republican primary voters" considering he donated $500 to the Obama 2012 re-election campaign. But being on TV makes people do and say funny things, eh?
But, hey, at least they didn't call Senator Paul an "isolationist."
Watch the clip below, via Fox:
— —
>> Follow Andrew Kirell (@AndrewKirell) on Twitter
Have a tip we should know? tips@mediaite.com