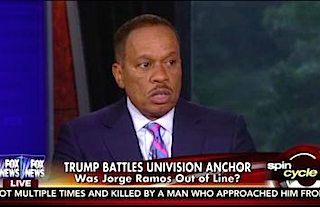 In the days since Univision's Jorge Ramos confronted Donald Trump at a press conference in Iowa and was subsequently thrown out of the room by security, commentators on the right have been labeling him an "advocacy journalist" who was simply pushing his pro-immigration agenda.
On Fox News, Bill O'Reilly called Ramos a "zealot advocating far-left positions" and compared him to #BlackLivesMatter activists. Elsewhere on the network, Greta Van Susteren blasted him for trying to "advance his career" and Jesse Watters said he was acting "like an alien."
But one Fox News personality actually came to Ramos' defense on Sunday morning, during a debate about the confrontation on MediaBuzz. "Let me just say first of all, Jorge Ramos is no reporter," Juan Williams stated. "He is the Walter Cronkite of Spanish language media in this country. He is the star journalist and he has a certain weight on issues of immigration specifically when he says that to his community this amounts to racism, discrimination, and oppression."
When the rest of the panel pushed back, arguing that Ramos "believes that journalism should have a point of view," Williams shot back, "I don't understand why that's a problem." Without naming any names, he added, "My colleagues here at Fox News often times especially our prime time anchors have a point of view and I've seen them interview President Obama and be insistent, interrupting and make their point."
On that last example, he was no doubt referring to O'Reilly, who repeatedly interrupted the president — and was celebrated for it on the right — during last year's pre-Super Bowl interview.
Watch the full segment below, via Fox News:
[Photo via screengrab]
— —
>> Follow Matt Wilstein (@TheMattWilstein) on Twitter
Have a tip we should know? [email protected]