Fox's Judge Napolitano: Gov't Leaked Operational Details About Al Qaeda To Show 'Its Spying Works'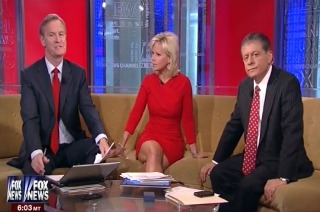 On Tuesday, Fox News Channel host Judge Andrew Napolitano appeared on Fox & Friends as a guest host where he savaged President Barack Obama's administration for leaking details of the nature of the Al Qaeda threat to American embassies, including the phones of top terror leaders that U.S. intelligence services were monitoring. He said that these details were leaked to the press to prove spying initiatives, like the National Security Agency's communications monitoring programs, are effective.

After detailing the nature of the current threat to American assets abroad, Steve Doocy attacked the government for releasing those specific details to the press.
"What's disturbing to some is the fact that somebody, could be from the administration, has leaked all of these details about how we got the intercept," Doocy said. He added that operational details leaked to the press essentially "burns a source."
RELATED State Department Extends Terror Alert, Al Qaeda Leader Threatens Revenge For Drones, Gitmo
"So, how absurd, and how counterproductive, and how absent leadership is it for somebody in the American government to say, 'you two creeps, the bomb makers and your boss, we've got your phone numbers and we've been listening to you,'" Napolitano agreed. "Why tell them that?"
"And yet the government, in an effort to show that it's spying works, told them," he added.
Doocy said that he had heard a theory that the terror alerts were simply a means of "getting us to accept this massive NSA spying that happens not only internationally, but also on all of us."
"Or it could be a real terrorist threat," Gretchen Carlson countered.
"But, we know from history," Napolitano interjected, "the government likes to gin things up when it wants to …"
"Take a bow?" Doocy asked.
"Take a bow or clamp down on freedom," Napolitano concluded.
Watch the clip below via Fox News Channel:
> >Follow Noah Rothman (@NoahCRothman) on Twitter
Have a tip we should know? [email protected]