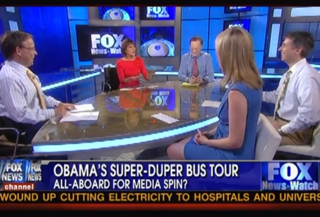 The President's Midwestern bus tour has garnered plenty of negative of attention from conservative sources, from the fact that it looks like a campaign tour to the bus's Canadian origin. On today's Fox News Watch, the panel argued over whether the President's current vacation in Martha's Vineyard following up the tour was good optics, or whether the right's occupation with both helped the President.
Host Eric Shawn opened the floor to conjecture over how the tour was going for the President, which writer Rich Lowry was first to reply to– that the President's rhetoric attacking Republicans was out of hand, arguing that "if you had a Republican out there every day basically impugning the patriotism of the other side… it would be a firestorm." As for the vacation, panelist Jim Pinkerton recalled "Reagan getting clobbered" over vacations, but the state of the economy allowed him to take them with less scrutiny than President Obama anyway.
Judith Miller then jumped in to bring up the bus, which she found a surprising character in the entire debate. Noting its various new nicknames– "Magical Misery Tour," "Greyhound to Nowhere"– Miller argued that there was "so much focus on the bus and nothing on what he was saying," which actually left the right at a disadvantage. "It does look bad," replied columnist Kirsten Powers, though she added that the bus was "not his" and, in fact, was bought as a way to save money for the 2012 elections, as an identical model was purchased by the Secret Service for the Republican 2012 nominee.
The debate via Fox News below:

Have a tip we should know? tips@mediaite.com