Fox's Katie Pavlich: Hillary Clinton 'Race-Baiting' with Calls for Early Voting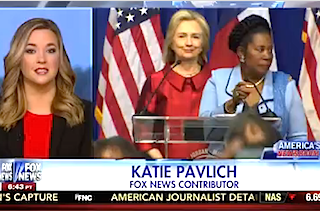 During a speech in Houston, Texas, last Thursday, Hillary Clinton called out specific Republicans like Rick Perry, Scott Walker, Jeb Bush and Chris Christie for supporting policies that make it harder for people — especially the poor and minorities — to vote. She then called for 20 days of early voting nationwide ahead of the 2016 election.
Governor Chris Christie (R-NJ) was one of the first to fire back, saying on CBS's Face the Nation that Clinton "doesn't know what she's talking about" when it comes to early voting in his state. Governor Perry said on CNN's State of the Union that her comments were "ridiculous," despite the fact that he did sign a law that requires Texans to show photo identification before voting.
But the strongest condemnation of Clinton's call for less voting restrictions came not from one of her potential rivals but from Fox News contributor and TownHall.com editor Katie Pavlich, who on Monday morning described the speech as "bogus race-baiting."
"Let's not pretend that Hillary Clinton doesn't know exactly what she's doing here. She needs black voter turnout in 2016 in order to win. And the way that she's going to do that is by perpetuating this bogus, race-baiting narrative that somehow voter ID laws disenfranchise minority voters," Pavlich said in response to a question from anchor Gregg Jarrett about whether the candidate is playing the "race card."
"First of all, it's not true. Second of all, it's shameless," Pavlich added, quoting a Fox News poll that says 70% of Americans favor voter ID laws. "It's a losing issue for her. Unfortunately, she's decided to go down that race-baiting route in order to get that demographic to come out and vote for her because she's hurting for votes at this point."
In 2014, a study conducted by the Government Accountability Office determined that requiring identification at the polls can depress turnout among young and minority voters. According to a Wall Street Journal report published ahead of last year's midterm elections, the study "found voter ID rules reduced turnout by 1.9% to 3.2% over several elections in the two states selected for study, Kansas and Tennessee. Participation fell disproportionately further among voters age 23 and younger, voters who had been registered for less than one year, and African-American voters."
Watch video below, via Fox News:
[h/t Raw Story]
[Photo via Fox/screengrab]
— —
>> Follow Matt Wilstein (@TheMattWilstein) on Twitter
Have a tip we should know? tips@mediaite.com