Fox's Kelly And Hume Applaud Media For 'Showing Up' On Benghazi, IRS, AP: 'Expecting To See Pigs Fly'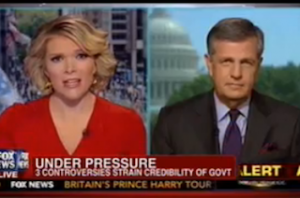 Following contentious press conferences from White House Press Secretary Jay Carney and Attorney General Eric Holder Tuesday, Megyn Kelly welcomed Brit Hume to her Fox News show to discuss the "media atmosphere" in the wake of series of scandals surrounding Benghazi, the IRS and the Associated Press.
"The White House briefing room is not a particularly good place to gather information," Hume stated. "But it's a good place to judge the media atmosphere and the media atmosphere in Washington today is a lot different than it's been for years."
"This is something that is new and this administration has not had to deal with this kind of a firestorm," Hume continued. "This isn't over yet on any count. All three of these stories have information yet to be gleaned and determined and extracted in hearings… There are times the critical mass is reached when even a Democratic president, so generally popular with the media, as this one is, can be caught up in it as President Obama now is."
"Between Friday's presser and the one we just watched," Kelly said, "I'm looking out the window expecting to see pigs fly. What's happened? Who are these reporters who have shown up here? for the first four and a half years of the presidency, Fox News has been the one asking tough questions and skeptical of the president." Only now, she said, the rest of the media "suddenly woke up" and realized they "have an obligation to the American people to ask hard questions."
Like Bill O'Reilly said earlier today, Hume predicted that the most recent scandal, involving the Justice Department secretly seizing phone records from AP reporters, will be the "least likely to affect the president and the White House." Perhaps because it is the story that affects members of the press most directly, it has been getting the bulk of the media attention today.
Watch video below, via Fox News:
—
>> Follow Matt Wilstein (@TheMattWilstein) on Twitter
Have a tip we should know? tips@mediaite.com