Fox's Kilmeade Goes After GOP Rep. for Sebelius Questioning: 'Looking for a Headline'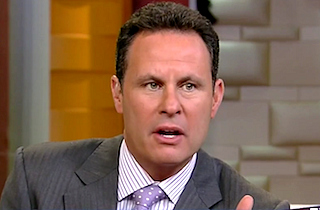 On Thursday morning, Fox & Friends co-host Brian Kilmeade criticized Representative Billy Long (R-MO), who interrogated Health and Human Services Secretary Kathleen Sebelius on Wednesday in a heated back-and-forth over whether she would join the Affordable Care Act federal exchange. Kilmeade thought Long used a gimmicky line of questioning to snare the secretary rather than discover information about the malfunctioning website.
"What's disturbing about that is she does not even understand the law that she is in charge of enforcing and pitching," co-host Steve Doocy said after playing the clip of Long's questioning. "Because under the law, she can go ahead and join Obamacare. She would have to stop getting the $10,000 federal subsidy that she gets."
"See, I have no use for that type of exchange," Kilmeade said. "That's not helping to find out what went wrong. It's not helping anybody find out how the program could run better, or helping us find out if we should just toss it out. That's somebody looking for a headline. I don't see any reason to pin her to the mat on that little element of it. Using your minutes to try to pin down a sixty-something year old woman who gets Medicare to take Obamacare?"
RELATED: GOP Rep. Tears Into Sebelius: 'Why Aren't You Losing Your Health Insurance?'
The hosts agreed that Representative Mike Rogers' (R-MI) questioning on the security issues of the site was much more substantive and useful.
"It was a fierce exchange," co-host Elisabeth Hasselbeck said. "It really was, and it scared a lot of people on the eve of Halloween."
"But that helps us, doesn't it?" Kilmeade said. "That helps us. By getting Kathleen Sebelius on a program or not getting on a program she doesn't understand every element of, I think it's pretty clear."
Watch the clip below, via Fox News:
[Image via screengrab]
——
>> Follow Evan McMurry (@evanmcmurry) on Twitter
Have a tip we should know? [email protected]