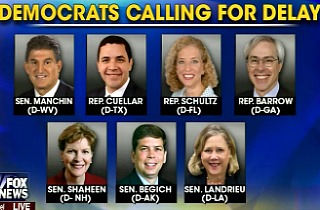 The hosts of Fox & Friends on Thursday, observing the problems associated with the roll-out of the Affordable Care Act and the number of Democratic lawmakers now calling for delays in the law's mandates and penalties, asked just how long President Barack Obama can withstand the pressure to give into the demands of his political allies.

The hosts of Fox News Channel's morning program observed that a number of vulnerable Democratic senators facing reelection in 2014 and a few House members, including the Chair of the Democratic National Committee, Rep. Debbie Wasserman Schultz (D-FL), have come out and are embracing a delay in the penalties associated with not purchasing health insurance.
Brian Kilmeade called each Democrat who came out for a delay, with the exception of Sen. Joe Manchin (D-WV), "gutless."
RELATED: Sen. Dick Durbin: GOP Leader Told Obama 'I Can't Even Stand to Look at You'
"During the debate when you could have actually helped the country and helped the program that your party put forward, you did nothing," Kilmeade said. "Now, you see it's a disaster and you're trying to save your own butt."
"Look how many we have up there," Kilmeade said of the Democrats now backing delay. "That's after one day. What about the end of the week?"
"The president might have his hand forced," he continued. "Even [House Minority Leader] Nancy Pelosi (D-CA) has said this is unacceptable."
"How can the president hold off his own party much longer?" Kilmeade asked.
Watch the clip below via Fox News Channel:
[Photo via screen grab ]
— —
> >Follow Noah Rothman (@NoahCRothman) on Twitter
Have a tip we should know? tips@mediaite.com