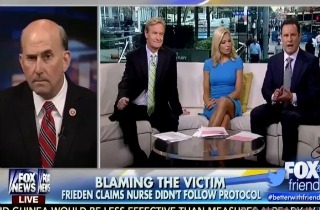 On Fox News Friday Rep. Louie Gohmert (R-TX) sat in to defend his recent and barely intelligible assertion that the Obama administration, along with the Centers for Disease Control, is engaged in an Ebola-related "war on women nurses." For a brief moment, however, he was shut down for sliding in a dig at Geraldo Rivera.
Before Gohmert's appearance via satellite, Rivera was on, also talking Ebola. Rivera said he didn't agree with some in the media who say CDC director Thomas Frieden should resign over his handling of the Ebola situation in the U.S.
"I don't want Frieden to resign, I agree with — Geraldo was talking about that and I have to bow to him in certain areas where he has more expertise like selfie nudies," said Gohmert. "He's got more expertise there."
After Gohmert — a man I know firsthand does not like when people take photos of him dancing with women who are not his wife — wrapped up his comment, Fox & Friends co-host Brian Kilmeade jumped in to defend Rivera.
"Real quick, don't take shots at Geraldo," Kilmeade said. "He's a great friend of ours. He has great experience."
Gohmert, with his left eyebrow suddenly raised one inch, said, "Oh, I didn't mean to. I mean he really has a lot more expertise in that area."
"Okay, well don't." Kilmeade said. "Just don't. Just stick to the topic."
Watch via Fox News:
[Photo via Fox News]
— —
>> Follow Eddie Scarry (@eScarry) on Twitter
Have a tip we should know? tips@mediaite.com