Fox's Kurtz Calls Zimmerman 'Bad Guy,' Compares Him to O.J. and Saddam Hussein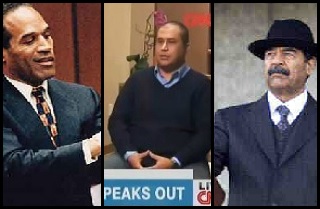 George Zimmerman, the neighborhood watch captain cum artiste who was acquitted of the murder of 17 year-old Trayvon Martin, continued his run in the public spotlight with an interview that aired on CNN's New Day Monday morning. The decision to interview Zimmerman stirred a backlash against CNN, but Fox News' Howard Kurtz took to FoxNews.com and defended Chris Cuomo's decision to interview a "bad guy," and compared Zimmerman to interview subjects like O.J. Simpson and Saddam Hussein.
As Kurtz notes, social media reaction to news of the interview was intense, including a #CancelTheInterview Twitter hashtag and a Change.org petition that garnered over 7,000 signatures (or 10% of New Day's demo audience), but the Fox News host defended Cuomo in an interesting way:
I understand the emotion behind these complaints. But journalists interview bad guys all the time, including people who have been convicted of terrible crimes and butchers on the international stage. Local ABC and Fox reporters talked to Jodi Arias, in one case during jury deliberations and in the other after she had been convicted of killing her boyfriend. Journalists vied to talk to O.J. Simpson after his acquittal, even though they presumed he was a murderer.

Dan Rather famously sat down with Saddam Hussein. Mike Wallace interviewed Ayatollah Khomeini. Fox News' Greg Palkot and Dennis Kucinich questioned Bashir al-Assad.
Kurtz went on to say that these interviews should be judged by "The quality of the interview and the toughness of the questions."
In the wake of Trayvon Martin's killing, Kurtz was extremely vocal in his criticism of journalists taking sides in the case, particularly of MSNBC and Rev. Al Sharpton, but also of Fox News. He was with CNN then, and at least as far as this interview is concerned, he's with them now.
Have a tip we should know? tips@mediaite.com