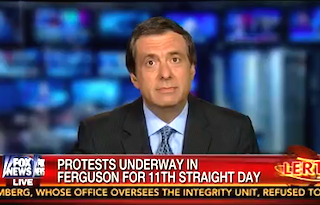 As tensions escalated on the streets of Ferguson, Missouri last night, CNN's Jake Tapper earned widespread praise for a speech he delivered from the scene about what he believed to be a gross overreaction by police there to the largely peaceful protests over the fatal shooting of Michael Brown. During an appearance of Fox News tonight, Howard Kurtz singled out Tapper's remarks as an example of what is wrong with the media coverage of the events.
"This media invasion in Ferguson I think is inflaming the situation because all the agitators want the exposure they see the bright lights, they see the correspondents, some of them are making a name for themselves or openly siding with the protesters," Kurtz began, before throwing to his MediaBuzz partner Lauren Ashburn for an alternative view.
"Some doing a good job, some grandstanding in my view," Kurtz added. "I was surprised to CNN's Jake Tapper say the police shouldn't be out there in riot gear because there was no threat."
On Monday night, Tapper said, "Absolutely there have been looters, absolutely over the last nine days there's been violence, but there is nothing going on on this street right now that merits this scene out of Bagram."
Kurtz continued, calling MSNBC the "Michael Brown defense network" led by Al Sharpton as well as criticizing unnamed conservative commentators for defending the police.
Watch video below, via Fox News:
And watch Tapper's remarks below, via CNN:
[Photo via screengrab]
— —
>> Follow Matt Wilstein (@TheMattWilstein) on Twitter
Have a tip we should know? tips@mediaite.com