Fox's Martha MacCallum Grills Dem Congressman Over Refusal To Raise Medicare Age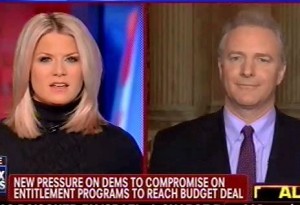 During a lengthy interview this morning on the looming "fiscal cliff," Fox's Martha MacCallum grilled Rep. Chris Van Hollen (D-MD) over his party's seeming reluctance to make cuts to entitlements and social welfare programs, or find means besides raising taxes, in order to avoid the impending "fiscal cliff."
After mentioning that several Republican lawmakers have expressed a willingness to cave on increase the tax rates for top income earners, MacCallum asked the Democratic lawmaker: "Does it matter if it comes from eliminating loopholes and doing tax reform, or whether it comes from taxing the rich? Does it matter how you get there in revenue?"
"What matters is the mathematics of this," Van Hollen replied, noting that in order to achieve the desired revenue mark, he believes you must increase taxes back to the Clinton-era rates for high-income individuals. Simply closing all the loopholes, the congressman argued, would not suffice in raising sufficient revenue.
"If you could be shown the numbers, I'm asking you if it's politically that you have to get the tax increases from the wealthy from the Bush tax cuts or whether what you're really looking for is revenue," MacCallum challenged him once again. "If you could get the revenue you seek, does it matter to you which way you get it?"
"The math is the most important thing," Van Hollen reiterated. "What the math shows is that you can't do what you just said."
On the subject of entitlement reform, MacCallum confronted Van Hollen over whether his party would be willing to change the model for Medicare in order to achieve some fiscal stability. "I want to ask you if you're open to the idea of raising the age for Medicare and for Social Security. It wouldn't affect anybody who is currently receiving those benefits … Can we go to 67 on Medicare, for example, can we go to 67, 69 on Social Security down the road? Would you be willing to do something like that?"
"By moving [Medicare] from 65 to 67 is, again, not reducing costs in Medicare," Van Hollen responded. "It's not really reforming the Medicare system."
MacCallum then argued that the system is likely to "go bust" in several years, and so raising the age for Medicare would prolong the program since people are living longer now.
"There are a lot better ways of doing it," the congressman responded, prompting MacCallum to say: "That's a no I'm hearing. You're not willing to change the age."
The two then had a bit of a back-and-forth over the Medicare question:
VAN HOLLEN: No, because there are much better ways of dealing with Medicare costs. Let's look at ways we can reduce the cost without transferring rising healthcare costs….

MACCALLUM: Doctors are no longer taking Medicare patients. You need to find a different way to get at the problem because they are losing those services as a result of that anyway.

VAN HOLLEN: Actually, Martha, every survey that's been taken shows that patient satisfaction in the Medicare program is much higher than patient satisfaction in the private health insurance market. That's been the result of numerous surveys that have been done over the last couple of years.

MACCALLUM: I could introduce you to doctors who would say otherwise and say they are no longer taking Medicare patients as a result of all this.
Watch below, via Fox:

— —
>>
Follow Andrew Kirell (@AndrewKirell) on Twitter
Have a tip we should know? tips@mediaite.com