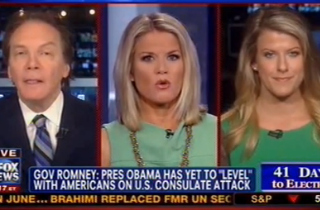 During a segment of America's Newsroom today on Fox News, host Martha MacCallum displayed a rare bit of frustration with liberal guest Alan Colmes when she felt he was dodging her questions about the administration's handling of the violent consulate attacks in Libya.
"The White House and the president are continuing not to admit what their own administration is saying," said Mitt Romney in the clip MacCallum played to open the segment. "We expect candor from the president and transparency and he refuses to acknowledge what is said by other members of his administration: This was a terrorist attack." MacCallum asked Colmes whether that "discrepancy" is worth pursuing.
"No it's not," the liberal radio host responded, bringing it back to the Republican candidate. "Clearly Mitt Romney is crassly playing politics here and it's really hilarious to see him ask for candor and transparency when his campaign has done the opposite on a whole range of issues."
"They said it's spontaneous, they then said no this is an act of terror," conservative panelist Gretchen Hamel responded. "Are they being honest with the American public or are they basically inept on this issue and inept on Middle East issues? I think this is something they need to answer."
MacCallum eventually cut off both Hamel and Colmes, scolding the latter for "speaking in a lot of generalities here."
After Colmes responded, "No, I'm not," the Fox anchorwoman got a bit heated. "No. I have a very specific question," she said, "and it is: Do the American people have the right to know what happened at that consulate?"
As Colmes attempted to answer — "oh, absolutely" — MacCallum continued on, her frustration growing palpable:
It seems as though we are dancing around it. We have an american ambassador who is dead. We have three people, two of them former Navy SEALs who, we were originally led to believe, were on security detail for Chris Stevens, which was not the case at all. Where is the DNI? Where is Hillary Clinton on this? Where is the announcement by the president about how this investigation is going?
"First of all, there is a investigation," Colmes replied. "The president doesn't report to the American people if we don't have all the facts."
Watch the segment below, via Fox News:
— —
>> Follow Andrew Kirell (@AndrewKirell) on Twitter
Have a tip we should know? [email protected]