Fox's Megyn Kelly Brings On 'Special Witness' Bill Hemmer To Discuss News Anchor Sexting Case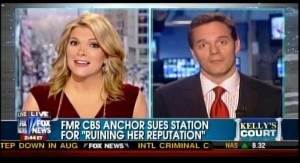 On America Live this afternoon, host Megyn Kelly brought on "special witness" Bill Hemmer – co-anchor of America's Newsroom – to discuss the lawsuit former KYW anchor Alycia Lane recently filed against CBS and her former co-anchor for having "discredited" her. "Because," as Kelly humorously pointed out, "when you think about inappropriate behavior at the anchor desk, you think Bill Hemmer."
Lane, you'll recall, allegedly entered into a "flirtatious, unprofessional and improper relationship" with her former co-anchor, Larry Mendte, which, according to Mendte, went sour after his wife discovered the affair… As is the tendency with this sort of thing, we assume. Lane, for her part, denies that the two engaged in a romantic or sexual relationship, but claims Mendte routinely came on to her while the two worked together. Mendte later hacked into Lane's email account in an effort to discredit his colleague by leaking information to the press. Lane, meanwhile, sent photos of herself – clad in a bikini – to married NFL Network anchorman Rich Eisen. And punched a cop in the face while yelling slurs and obscenities. Not her finest moments, but, you know. Live and learn, right?
So what did Hemmer have to say about all this? And to what, exactly, is he a "witness"? We never did quite get the answer to that second question, but Hemmer did opine that, if two people are engaged in a relationship (which, again, Lane denies), what they do in various states of undress in someone's car is their own business, regardless of whether or not they work together, or even whether or not they happen to be married to other people.
Kelly, for the record, notes that she and Hemmer "never laid an inappropriate hand on each other" during their time together as co-hosts of America's Newsroom. Furthermore, she sees Lane's series of embarrassments as actions she's going to have to take responsibility for instead of trying to pass the blame on to her former network and co-worker. Do you agree?
Check out the segment, courtesy Fox News:
Have a tip we should know? tips@mediaite.com