Fox's Megyn Kelly Brings Us The Inspirational Story Of The Elderly Women Who Went To Chippendale's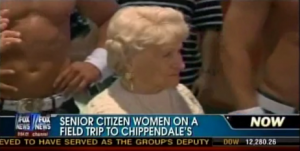 Ah, human interest stories. In the midst of a sea of depression (war, riots, no Mad Men till 2012), they help bring a little lightness to our lives, particularly on slow news days. Here' a story that's even lighter than usual as Megyn Kelly brings us a report from Las Vegas affiliate KVVU about an assisted living center that sent a bunch of elderly women to check out the pecs and abs at Chippendale's.
Now, I could get all self-righteous and stuffy and ask how on earth any of this is news. I'm not gonna do that though.
Typically, any news story that contains even a whiff of sexuality is treated with all the subtlety of the apocalypse ("Our nation's children are using sexting to gay marry their ecstasy dealers while at oral sex parties!!!"), so it's refreshing to see Fox News treat this as something "brilliant" and inspiring and not something to bring the Culture Warriors in for. No, this isn't the most hard hitting report in the world, but it was still kind of fun to watch. And, yes, it's quite possible that a bunch of people died in Libya while this was airing, but old ladies are adorable and Betty White has proven that old people talking dirty is as much a national past time as baseball or, I don't know, old people rapping.
So hooray for this report! Although, I do have to complain that it didn't answer my one main question. Who was the person who thought, "Hey, we're bringing a bunch of geriatric women to stare at bulging banana hammocks. Someone should alert the media!"
Check out the clip from Fox News below:
Have a tip we should know? tips@mediaite.com