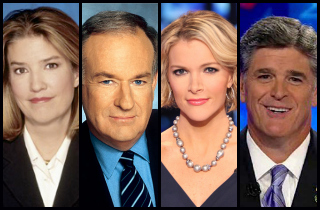 After months of speculation, Fox News has finally announced its official new primetime lineup. Starting Monday, October 7th (the network's 17th anniversary), Fox's primetime hours will be entirely re-jiggered, with the exception of Bill O'Reilly staying planted at 8 p.m. ET.
As previously reported, Megyn Kelly will be moving to the 9 p.m. ET slot with her new show, The Kelly File. That slot's former host, Sean Hannity, will move his eponymous show to the 10 p.m. slot, currently occupied by Greta Van Susteren.
Just as we've speculated before, Van Susteren will in turn move her signature show, On the Record, to the 7 p.m. slot currently occupied by Shepard Smith, who is vacating that spot to focus on his new "Fox News Deck" breaking news desk.
Of her earlier time slot, Van Susteren said: "After 11 ½ years number one at 10pm and driving home near midnight, I am 'to the moon thrilled' at a new challenge (and a new drive! Half the year I won't even need headlights!)."
Hannity said of his new time-slot: "I am very happy to be moving to 10PM. The ability to be live or on tape greatly increases the flexibility of the show and offers me, after 17 years, the opportunity to be home at night with my family."
Fox chief Roger Ailes had this to say:
"As the network continues to dominate with the top 13 programs in cable news, FOX News already redefined primetime viewing to extend well beyond the antiquated 8-11PM format. We've developed a deep bench of engaging and thought-provoking personalities that have grown with FOX News as it has evolved into the most influential and successful cable network in television. These changes will enable the network to continue setting the industry standard for years to come."
And so, for those who need it laid out visually, Fox's new primetime lineup is as follows:
7PM – On the Record
8PM – The O'Reilly Factor
9PM – The Kelly File
10PM – Hannity
UPDATE: As many have noted, this new lineup now means Fox News is the only cable network with two females hosting during primetime hours.
— —
>> Follow Andrew Kirell (@AndrewKirell) on Twitter
Have a tip we should know? tips@mediaite.com