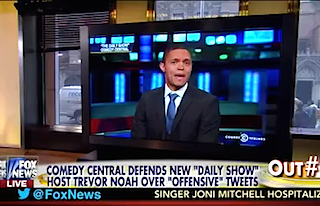 While much of the outrage over Trevor Noah's Twitter history has come from the left, conservatives have not exactly rushed to defend the new Daily Show host. The hosts of Fox News' Outnumbered didn't quite rally behind Noah's questionable jokes on Wednesday's show, but they did defend his right to make them — as long as there isn't a "double standard" for those on the other side of the political spectrum.
"If I were to take out his name and put in, I don't know, other people's names in there, maybe not comedians, would that excuse fly?" Andrea Tantaros asked of Noah's response to the uproar. "Because I'm going to boilerplate his excuse and use it the next time I take heat for saying anything insensitive."
As an author, guest Brad Thor said he doesn't want to see anyone's free speech "curtailed." But at the same time, he said he had "cultural whiplash." Speaking directly to Comedy Central, which he called the "flagship station for liberalism," Thor asked, "Can we stop with the double standard, OK?"
"Just agree that we're done playing this game where it's OK for the lefties to do it, but if anybody on our side does it, it's the worst thing to happen and we need hearings and all this stuff," he added. "Let's have a sense of humor again, and let's let it extend to all people."
"There is huge double standard," Katie Pavlich agreed. "They ruin the entire careers of people who happen to have a different point of view over saying the same thing, but they don't happen to be liberals and they don't happen to be comedians." She added, "That double standard has to stop if we're going to be saying it's all OK, because it is comedy."
Harris Faulkner hit the nail on the head when she said, "I guess you don't have to watch it, if you don't want to."
If Jon Stewart's fans end up deciding they really don't like Trevor Noah, they will stop watching The Daily Show and Comedy Central will realize they made a mistake. Or, if he manages to raise his game to Stewart's level, all will likely be forgiven.
It's the same way that Stewart can say all kinds of horrible things about Fox News hosts, and viewers can decide for themselves whether to tune in to that network on a regular basis as a result.
Watch video below, via Fox News:
[Photo via screengrab]
— —
>> Follow Matt Wilstein (@TheMattWilstein) on Twitter
Have a tip we should know? tips@mediaite.com