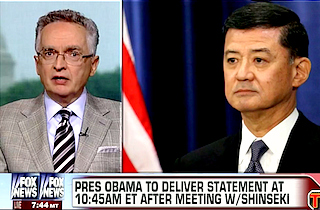 Fox News military analyst Ralph Peters defended embattled Veterans Affairs Secretary General Eric Shinseki Wednesday morning, ahead of a White House meeting that may very well bring an end to Shinseki's tenure. Peters said Shinseki had been a "whipping boy" despite years of progress made on clearing the Veterans Affairs' backlog.

"The Veterans Administration is never, never going to have a better more honorable and dedicated boss that Eric Shinseki," Peters said. "He is not the problem…General Shinseki couldn't undo fifty years of neglect and underfunding in five years, but he's actually made progress."
RELATED: CNN Panel Warns: VA Scandal Has Potential to Be 'Runaway Political Crisis' for Obama
Peters argued that the real culprit was the cumbersome firing practices of the federal government, which made it difficult to remove officials allegedly responsible for the hidden waitlists that spurred the current scandal.
"General Shinseki does have one deficiency when it comes to dealing with the public and media," Peters said. "He is a very taciturn man. He is reticent. He doesn't cry in public. Everybody wanted to see him weep in front of a Senate panel. He is a very reserved man. Unfortunately in this media age, where it is all sensation all the time, people don't understand quiet discipline anymore."
"Now Shinseki may well go," Peters concluded, "but my god, if he goes I tell you I will salute that man, because I believe he has done his best."
Watch the clip below, via Fox News:
[Image via screengrab]
——
>> Follow Evan McMurry (@evanmcmurry) on Twitter
Have a tip we should know? tips@mediaite.com