Fox's Red Eye Crew Adds Matt Damon And Wendy Williams To Unsexiest Men Alive List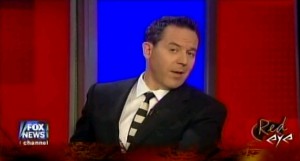 People magazine recently crowned Ryan Reynolds their Sexiest Man Alive, so why shouldn't famous unsexy males get some special recognition too with BuzzFeed's 50 Unsexiest Men Alive 2010 list? Apparently upset about not being included on either list, Red Eye's hypnotic host Greg Gutfeld, societal scholar Bill Schulz and guest caffeinated comedian Nick DiPaolo unleashed a funny fury of put-downs aimed towards unsexy males both on and off the list.
DiPaolo suggested Wendy Williams should have received the top honor, but was most surprised at Clay Aiken's inclusion, wondering, "this is a list of men, isn't it?" Also the first shot in a new media feud was launched and People's 2008 Sexiest Man Alive, Matt Damon , was the unlikely recipient. Schulz screamed, "No Matt Damon? He's hideous. His face is bigger than his head, America! When are you going to wise up and realize the man is malformed?" Damon's "big" face is unlikely to attempt a comeback, but Schulz's own unique look would definitely make for a humorous back-and-forth between the two.
Other media personalities taking some of the "coveted" spots on the list include Don Imus (6th unsexiest), Jay Leno (10th), Glenn Beck (19th), Larry King (20th), Rush Limbaugh (23rd), Karl Rove (38th), and Regis Philbin (41st). Larry King seems a bit misplaced, since with so many marriages, women clearly still at least find the suspenders sexy. What do you think, should any other famous faces from the media world be included on the unsexiest list?
Watch the insults fly in the clip below courtesy of FOX News:
Have a tip we should know? tips@mediaite.com