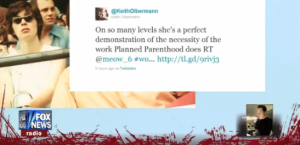 The Red Eye crew took umbrage at Keith Olbermann's recent Tweet about conservative columnist and talking head S.E. Cupp. On the off-chance you've yet to be dazzled by the poetry of Olbermann's 140-character-of-less observations on people he wishes had never been born, he Tweeted the following: "On so many levels she's a perfect demonstration of the necessity of the work Planned Parenthood does." (Our own Tommy Christopher discussed Olbermann's Tweet at length, writing that "Olbermann did deny wishing an abortion on Cupp, and did reference Kyl, but said 'I never mentioned abortion. I said her parents could have used counseling by PP rather than get the results they did.'")
Red Eye host Greg Gutfeld said the logic behind Olbermann's mean-spirited Tweet was pretty sound for "someone like Olbie" who would "rather see someone dead than debated." But Gutfeld, for one, isn't buying Olbermann's "counseling" spin given the man seems to despise Cupp so vehemently. And, in any case, wishing that a couple took some means of birth control instead of giving birth to someone of whom you're not overly fond is still, basically, wishing that someone had never been born.
And here, friends, is the money quote:
But, really, all this undermines Planned Parenthood, not Olbie. We already knew he's a turd. When he brought up Planned Parenthood, everybody knew he meant abortion, so his ghoulish joke reminds everyone that the idea that Planned Parenthood means more than abortion is a fatuous joke. Like the man himself.
After a requisite "Fascist" joke or two, the Red Eye crew opined that Olbermann is "uncomfortable" with dissenting opinions and that he is "an embarrassment to the left."
Andy Levy then weighed in during the halftime report, wanting some more details on how a proposed "Fascist Drinking Game" might work. (Spoiler: It works by making your liver explode.) Levy also took a moment to share that he doesn't understand why it's even news that Olbermann said something "classless and stupid" because it's his job… "at least when he had one." So Tweeting about people he doesn't like and doing whatever he is going to do at Current TV don't count as jobs? Shrug!
Watch the segment for yourselves, via Fox News:
Have a tip we should know? tips@mediaite.com