Fox's Red Eye Featured A Bizarre 'Punish Him' Message In Secret, Subliminal Frame (UPDATE)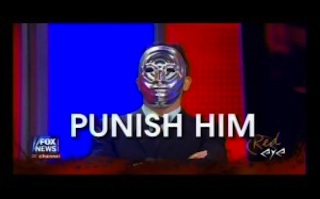 Last week, during Friday's broadcast of Red Eye, a strange image appeared for a split second. While guest Terry Schappert was discussing host Greg Gutfeld's "Greg-alogue" about the death of the food pyramid, his image was interrupted briefly with a image of Gutfeld, a strange mask superimposed over his face and the words "PUNISH HIM" written below. Huh?
The first to notice the subliminal message was the website The World is News which wondered if this was perhaps a hack. Just like the last purported Fox News hack, that seems unlikely. TWiN's other theory is much more believable; that this is just a goofy Red Eye gag.
So, if this was a joke, what was the meaning? Was it a reference to this Stephen Colbert bit? Then, the choice of mask made it clear that it was a reference to the hacker group Anonymous. Here, though, we can't quite place the odd mask being used.
Any die hard Red Eye fans got a theory?
UPDATE: Apparently this is nothing new. We got clued in on Twitter: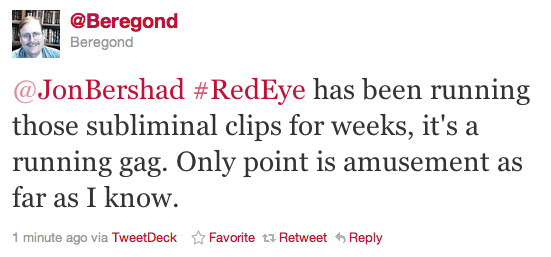 So the only explanation now is that this is some kind of inside joke and we're on the outside. And we hate that. Hate it.
So…um…yeah, just kidding! This post was a joke! We totally understand what the image means and why they've been broadcasting it! We're cool! We're cool!
SECOND UPDATE: The World is News has updated their post and isn't completely satisfied with the "all a gag" explanation. Hopefully they'll figure out an explanation because the whole thing is just odd. We're intrigued.
Of course, that's just what you wanted, Red Eye gang, isn't it? ISN'T IT?!
Watch the clip from Fox News below:
(h/t The World is News)
Have a tip we should know? tips@mediaite.com