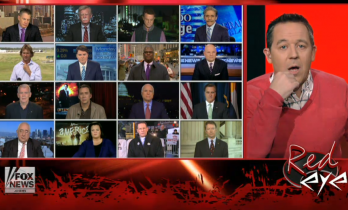 For a comedy-heavy news talk show like Fox's Red Eye, the advantage of airing at 3 a.m. is that it allows you to venture into the theater of the absurd.
Perhaps the greatest example was the time the show ended an episode on a darkly surreal, existential note. And then last night, the crew had fun again, mocking the farcical nature of cable news by hosting an "epic" 16-person panel to parse the "latest big bank issue."
It was a short segment, but it packed a lot of punch. Host Greg Gutfeld announced that a heavy topic like the latest Federal Reserve proposal requires a skilled team of commentators, and so he brought out, via satellite: ex-CIA officer Mike Baker, former U.N. Ambassador John Bolton, Fox anchor Shepard Smith, and Geraldo Rivera.
Oh, and can't forget Fox reporter Phil Keating, Fox anchor Gregg Jarrett, FBN host Charles Payne, and lawyer Arthur Aidala.
But, wait, there's more! Lt. Col. Oliver North, actor Nicolas Cage, Sen. John McCain (R-AZ), and former Gov. Mitt Romney (R-MA). But it's not totally epic until Ben Stein, Rosie O'Donnell, Brian Kilmeade, and Sen. Rand Paul (R-KY) join the team.
By the time all the guests were introduced, the segment had to wrap for time. Damn. (Also, none of them were actually there. It's just b-roll footage from their satellite hits on other Fox shows. You dummy.)
Watch below, via Fox:
— —
>> Follow Andrew Kirell (@AndrewKirell) on Twitter
Have a tip we should know? tips@mediaite.com