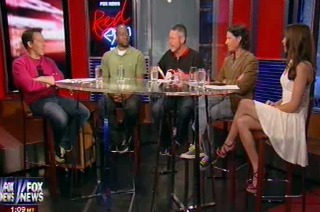 The panel guests on Fox News Channel's Red Eye uniformly mocked conservative pundits and bloggers who have expressed outrage over a flippant comment made by NBC's The Voice star Adam Levine who recently expressed dismay over the program's voting results by saying, under his breath, "I hate this country." The Red Eye guests said that there was nothing to be outraged about over regarding Levine's comments and cast aspersions on conservatives who appear overly eager to find cultural events to be perturbed about.

Christopher Barron, the co-founder of the gay conservative group GOProud, called the controversy "crap."
"You know what is almost as bad as faux left-wing anger? Faux right-wing anger," Barron added. "This makes us look bad."
"It's absolutely embarrassing," host Greg Gutfeld agreed.
RELATED: Conservatives Erupt Over Pop Star Adam Levine Muttering 'I Hate This Country' On NBC's The Voice
"The only thing that offended me about this was the apology, because I don't understand why he apologized," added Fox News Channel contributor Jedediah Bila.
"Adam Levine wasn't saying he hates America, he was saying he hates Americans who vote for that show," clarified comedian Sherrod Small. "And, guess what? They hate themselves."
"It was funny," said co-host Bill Schulz. "Adam Levine made me laugh."
"It's also interesting that people who say, 'Oh, I don't care what celebrities think,' then blow up everything they say to these huge proportions," Bila observed. "It's ridiculous."
Watch the clip below via Fox News Channel:
> >Follow Noah Rothman (@NoahCRothman) on Twitter
Have a tip we should know? tips@mediaite.com