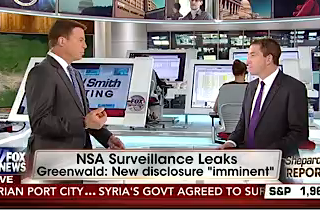 Glenn Greenwald joined Fox News' Shepard Smith on the "Fox News Deck" Monday afternoon to promote his new book
and tease some new revelations to come out of Edward Snowden's NSA leaks. But while he was there, things got tense with Smith confronted him about some comments he made Friday night when he was a guest on Real Time with Bill Maher about ISIS in Iraq.
"You said something to the effect of, who is worse really, them [ISIS] or in essence, the Americans who invaded or would invade?" Smith said. "You equated our forces to terrorists."
"Yeah, that's not actually what happened," Greenwald replied. What he suggested on the show was that "maybe outside forces that go in and start bombing that country are actually terrorists, more so than the people in the country." Greenwald defended himself by saying he was referring to the political and military leaders who make the decisions, not the troops themselves.
"The point I was making there's this phrase, terrorism, that has very little definition," Greenwald told Smith. "It doesn't mean really much of anything. It's a fear-mongering word the government invokes every time it wants to justify policy, from torturing people to putting people in Guantanamo without charges." He pointed to the Bush administration's "shock and awe" invasion of Iraq, the purpose of which was "to do so much violence that we would terrorize the civilian population into submission, into surrendering."
When Smith pushed back, Greenwald said "of course ISIS are horrible people doing horrible things" but it's not as simple as "they're terrorists and now we have to go and fight them." He agreed with Smith that "nobody should hold the soldiers" sent to war responsible for the decisions of political leaders, but that does not mean you shouldn't be able to criticize those decisions.
Later in the interview, Smith brought up another contentious issue by asking Greenwald if he worries people may have died as a result of Snowden's leaks. Greenwald turned the question around on Smith, saying that if someone were accusing his Fox News broadcast of leading to someone's death, he would want evidence proving it to be true.
"I've heard people say all the time that Fox News puts men and women in war by criticizing President Obama," Greenwald said. But before he would believe accusations like that, he would want to hear evidence to back it up.
"I can guarantee you if any story we publish from the Snowden documents cause the death of anyone, people in the Obama administration would be running to The New York Times in order, anonymously, to plant that, to discredit the journalism that we're doing," he said. "The fact that they haven't, that they can't point to any of these harms, means that no rational person should be willing to entertain those types of inflammatory accusations."
Watch video below, via Fox News:
And watch the relevant clip from Real Time with Bill Maher below, via HBO:
[Photo via screengrab]
— —
>> Follow Matt Wilstein (@TheMattWilstein) on Twitter
Have a tip we should know? [email protected]