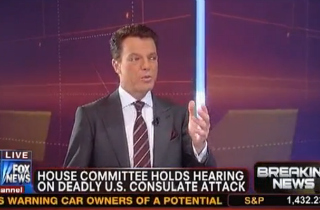 Fox News anchor Shepard Smith let his outrage fly this afternoon on Studio B, as he angrily chided the federal government for not increasing security abroad even after intelligence officials learned that there was a plot to murder American emissaries.
Speaking via satellite with security expert Rick Nelson, Smith repeatedly raised his voice — not at Nelson, but at the subject overall.
"What is interesting to me and might be interesting to the people at home watching as some of them with their jaws dropped is that, first of all, the man who is in charge of the security detail there has said from the beginning in the testimony that we don't have the security need for our Americans whom we sent over there to serve us," he said as his voice began to rise.
"Then the terrorists struck us at that spot in Benghazi. But no one told us about it. And then they put on Facebook they would attack again. And no one told us about it. And then they attacked again and they told us it was not an attack, it was a looking at video and they got excited," he continued in a shouting voice. "Something ain't right… Are all of our people sitting ducks?"
Nelson's answer got cut off by a hard commercial break, but after returning Smith continued the conversation.
"It reminds me of 1993 at the World Trade Center," Smith said as he began an impassioned monologue. "They came over here and tried their damnedest to murder everyone in the building that time. What did we do? we increased security, blah, blah, blah. They declared holy war on us, they said we're coming, and then they came and we acted surprised. This is shocking, certainly, but surprising? Really? After they told us they were going to do it, we're surprised? No one can be surprised," he said, once again in a clearly irritated voice.
"We have diplomats over there hanging out, ready to be murdered. What are we doing?" he asked.
"We inadequately prepared to keep the individuals safe and secure," Nelson answered.
"Obviously," Smith muttered.
"We don't seem to be learning from our mistakes," he continued. "We did not learn about '93 when 2001 came around, we did not learn about the first attack when they murdered the first ambassador overseas since 1979. It just seems like we could be trying to do a little bit too much, doesn't it? Maybe we are trying to do too much around the world."
Watch below, via Fox News:
— —
>> Follow Andrew Kirell (@AndrewKirell) on Twitter
Have a tip we should know? tips@mediaite.com