Fox's Shep Smith Goes Off: 'We Just Got Played' by the Russians Over Syrian 'Peace Plan'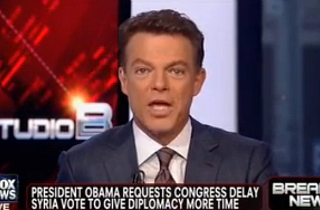 On Studio B this afternoon, Fox News anchor Shepard Smith gave a scathing assessment of the latest developments in the Syrian crisis, focusing mainly on his belief that the United States "got played" by Russia.
The Russian government proposed on Monday that the Syrian regime hand over its chemical weapons stockpile to the international community. That plan was seen as a "positive development" by President Obama. Earlier this afternoon, however, Russian President Vladimir Putin added that the plan would require that the U.S. forgo any potential use of force against Syria.
"That's a non-starter," Smith told Fox correspondent Mike Emanuel. "I think we've just wasted 24 solid hours and we've not made one bit of progress, not one centimeter of progress. The Russians just blew hard and blew us right off course."
"We just got played," the Fox anchor added.
"Makes you wonder what the President of the United States is going to say to the American people tonight with this ever-changing situation," Emanuel replied. "I'm sure the president's speechwriters are not having a good time at the moment."
The segment closed with Smith delivering one of his trademark monologues, criticizing the U.S. government for believing the Russians to be genuine about negotiating peace [emphasis added]:
The president has asked for a delay on the vote to authorize the use of force in Syria. Why was he doing that? Well, we have this peace proposal. This possibility that, all of the sudden, the Russians, who have gotten in the way of everything; the Russians would not even ask for a resolution that declared that the Syrian government should stop murdering its own people; the Russians who have gone so far as to say it's not the Syrian government that has gassed its own people, it's the rebels who gassed themselves. That's been the Russian proposal. And in the middle of that, amid the Russian sentence, the Russians say, 'Wait, wait, we have a peace plan now. The Syrians are going to give up all their chemical weapons,' and the Syrians go, 'Yep, we're going to do that.' And he goes, 'Look, let's have a United Nations Security Council vote.' Sure. The president delays the vote over there in Congress. 'We're going to wait, peace plan, peace plan.' An hour before the U.N. votes on such a matter, we get the word that President Putin says 'Yeah, but, United States, you have to forgo the use of military force if this is going to work.' That's where we are. In the United States of America, the most powerful country on earth. The Russians just threw a head fake and we bit.
Watch below, via Fox News:
[h/t
TheBlaze
]
— —
>> Follow Andrew Kirell (@AndrewKirell) on Twitter
Have a tip we should know? tips@mediaite.com